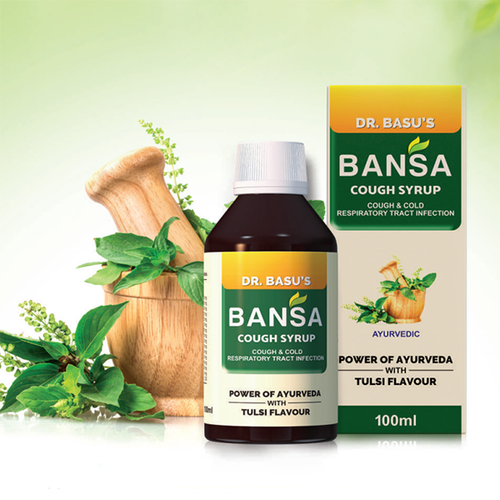 Bansa Cough Syrup
Product Description
100 ml Cough Syrup is used to relieve coughs caused by the common cold, breathing illness, and bronchitis. This cough syrup works by thinning and loosening mucus in airways. It helps in cleansing congestion and making breathing easier. We provide the cough syrup in a plastic vial that keeps impurities and contaminants at bay. 100 ml Cough Syrup can be purchased at a reasonable market price.
WITH BENEFITS OF
ADVANTAGES
NON TOXIC
NON ALCOHOLIC
NON SEDATIVE
QUICK RELIEF
Each 5 ML Contains
Gulkhairo (Althaea Officinalis) 100 mg
Kunzi (Malva Rotundifolia) 100 mg
Somlata (Ephendra Gerardiana) 50 mg
Dharu (Lavandula Stoechas) 100 mg
Catnip (Nepala Cataria) 100 mg
Kakra Singhi (Pistacia Integerrima) 100 mg
Bansa (Adhtoda Vasica) 100 mg
Tulsi (Ocimum Sanctum) 100 mg
Ajwain (Trachyspermum Ammi) 200 mg
Yasti Madhu (Glycerrhiza Glabra) 200 mg
Pipali (Piper Longum) 50 mg
Sonth (Zingiber Officinales) 50 mg
Pudina (Mantha Piprreta) 50 mg
Lassora (Cordia Dichotoma) 25 mg
Sugar (Sacchrum Officinarum) 5 mg
Preservative Q.S.